Repurposing
Reusing old materials to make new products
Learn more about larger industrial circular economy projects in which we participate and share your innovations and ideas in our ongoing series:
Turning used material into new products.
REVOLVE transmits impactful and inspiring messages and projects from its partners to communicate sustainability more visually and effectively. One of the ways we do this is by designing and curating large-scale outdoor exhibitions at strategic locations. But we do more! In line with the values we share with our partners we minimize waste through REPURPOSING.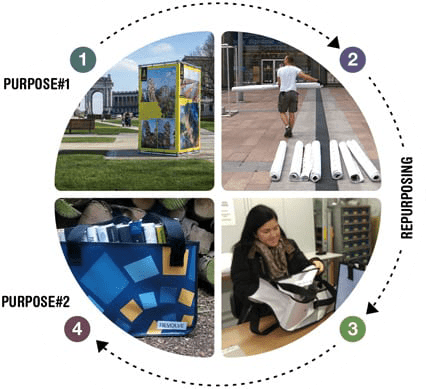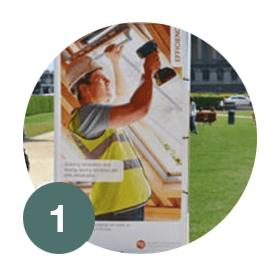 Purpose #1
REVOLVE designs and curates large outdoor exhibitions. We support partner projects and communication campaigns, as well as our own. We work with local suppliers to print and install the exhibitions in public spaces, like the Cinquantenaire Park in Brussels or along boulevards in Barcelona.
In iconic locations such as these, hundreds of thousands of passersby see the messages of our exhibitions.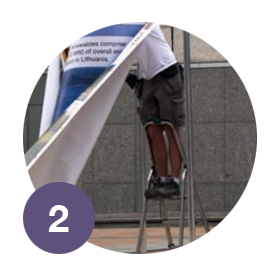 Repurposing
REVOLVE recovers the canvases after the exhibitions and, if the partner does not wish to reuse them for other events, ships them to a small company in Germany that integrates physically challenged people in the workforce.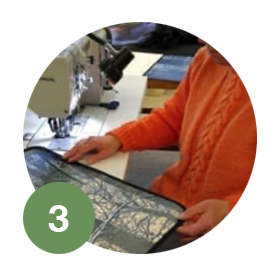 Repurposing
Every month, about 30 workers clean, cut, and sew the canvases into new bags and folders. In this way, each month they are giving a new life to up to 1000 square meters of products from banners and flag fabric.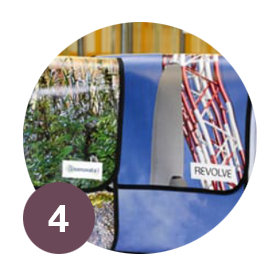 Purpose #2
The final products are a unique set of messenger bags, shopping/beach bags, and document folders that are branded with our partners logo.
Repurposing has a history as long as humankind.
Today, however, it is a valuable practice towards sustainable living and a key aspect of the circular economy.
Do you have an exhibition coming up and you want to reuse and brand the canvases for your event folders? Contact us today!
Sustainability at REVOLVE