Communicating sustainability is at the epicenter of our work.
When we talk about sustainability, we are using this term for all our operations, projects and services: environmental and social sustainability as well as good governance are integral parts of how we do business and with whom we do business, including our partners on projects. REVOLVE believes leading companies, organizations and institutions achieve optimal performance by integrating sustainability and diversity within their business practices and policies. That's why everything we do at REVOLVE is geared towards promoting greater sustainability and thereby influencing others to do better as well.
For our day-to-day business, this includes a Diversity, Equity and Inclusion (DEI) component; for our operations, it includes our REFOREST and REPURPOSING programs that are linked to our business and project travel as well to the production of our quarterly magazine and our public information campaigns. REVOLVE consists of vibrant and dedicated teams that believe in communicating sustainability via our model of providing comms services externally via the agency while also producing quality content internally via our magazine. These two sides of the same coin enable us to provide original work around the five main themes of sustainability: water, ecosystems, energy, mobility and the circular economy.
We believe in a world that is in constant flux and that has the potential for greater co-existence between nature and humankind. Our collective 'manual for how to operate on Earth' does not have to be about endless, wanton economic growth and relentless, unbridled technological progress. We can slow down and look around; we can take in different views and see things from different angles. At REVOLVE, we consider that: perspective is everything, and everything is changing.
This motto builds on our Values that are the backbone of REVOLVE. While we focus more on environmental sustainability issues than socio-economic – such as the abuse of worker's rights, human rights, child labor or modern slavery – we have a policy for zero tolerance for such nefarious practices and will denounce them and counter them whenever possible. We also place an emphasis on upholding the highest ethical standards and on building out good governance. We hope our Sustainability Policy will inspire you to improve your practices and to work on communicating sustainability!
Transparency. Responsibility. Honesty. Professionalism. Impartiality.
REVOLVE adheres to and advances the following values in relation to all peoples and towards different environments around the world:
Respect of cultural and linguistic diversity. Respect of religious affiliation and historical backgrounds.
Respect of sexuality and ethnicity. Respect of physical and psychological differences.
Respect of socio-economic status and political neutrality.
Respect of gender and age differences. Respect of the environment and nature.
Respect for who you are and what you may want to become.
Honesty of purpose in placing long-term goals for greater sustainability over short-term pecuniary gains.
Unlimited transparency of financial issues and of operational processes with partners and members.
Zero tolerance of any form of harassment. Zero tolerance of any kind of corruption (moral, financial, or other).
Zero tolerance of child labor, abuse of power, or other forms of coercion.
We make the most of the resources made available to us.
We strive to make a difference in people's lives and to make healthier ecosystems flourish.
We invest in local development projects that can bring people closer to nature.
We have a zero-waste policy for our events and products. We are committed to implementing environmental sustainability.
We are committed to minimizing our impact on Earth.
Climate Action
SDG 13: Take urgent action to combat climate change and its impacts
Climate finance continues to increase but so does the global average temperature.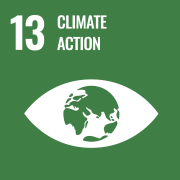 Ethics & Compliance
Compliance is about conforming to and abiding by the company's policies as required by laws and regulations. Ethics is a part of overall compliance; it's a code of conduct that is embedded in the company culture of REVOLVE. Our culture of sustainability reinforces individual ethics and group compliance positively, creating an environment of trust and transparency. While many companies include Ethics & Compliance under Governance, for REVOLVE we consider acting ethically and complying legally to be transversal to everything we do; we therefore label it broadly as being embedded in every aspect of our modus operandi.
When brought together, our ethics and compliance are complemented by leadership that gives space to staff to not fall under excessive pressure that could cause unnecessary misconduct. This makes our culture of sustainability stronger, which in turn has a positive effect on our internal teams and our external relations with Partners. Adhering to sustainability practices across the board and in all things we do, we enhance the brand equity of REVOLVE every day.
When and if a severe instance of misconduct arises, REVOLVE Group has an Ethics & Compliance Committee that evaluates the situation from the different perspectives before taking a precipitated decision. If the case involves serious allegations with an external partner, then legal counsel may be sought to assess the best course of action. At all times, REVOLVE attempts to reach an amicable resolution and always tries to defuse the conflict. If the case is a serious breach of personal and company reputation that has internal and external repercussions, the Committee may take punitive measures against the offending party.
REVOLVE's Ethics & Compliance Committee consists of a representative from each of the Group's companies that meet on an annual basis to review the corporate culture of sustainability at REVOLVE, and that can meet for Extraordinary Meetings should a serious issue arise. When minor issues arise, tensions between staff members for example, then the respective company representative resolves the issue with the staff in the respective office. If the issue is beyond the scope of the office dynamics, then it may be brought to the Committee for assessment during an Extraordinary Meeting. The Committee also revises, edits, amends and ultimately approves the annual REVOLVE Sustainability Report.
During the onboarding process at REVOLVE, new staff are provided with a Handbook for Operations and given an Ethics & Compliance training by a member of the Committee, and once a year the Committee organizes an internal Risk Management training to go over new risks that may emerge, how they are identified, managed and mitigated. Our Quarterly Review meetings also give staff the opportunity to voice any concerns with the leadership at REVOLVE which enables frank and open discussions around different aspects of employment and equality practices for example. Ultimately, our Ethics and Compliance go back to the core Values that we live by at REVOLVE and our quest to communicate sustainability.