Everything we do at REVOLVE is about communicating sustainability.
We work with partners and projects that advance sustainable solutions.
We strive to be zero waste and zero emissions in all internal operations and external services.
We live by transparency, responsibility, accountability and honesty.
Join us in being more sustainable!
Transparency. Responsibility. Impartiality. Honesty. Professionalism.
Based on these five defining traits of integrity, REVOLVE has built a strong reputation for providing top quality work. We are proud to embody these traits in our daily work and to take the correct course of action whenever a challenging situation may arise. Such situations come up often in life, and we cannot permit ourselves to fall victim to lapses of judgement or to permit an unpleasant exception to occur that may tarnish our reputation, the society we live in, and the environment that surrounds us.
For these reasons, we have a Code of Conduct that guides us at REVOLVE:
Our Code of Conduct
Respect diversity and differences in all their shapes and sizes
Always abide by laws and regulations in all circumstances
Choose to be correct, direct and honest in your interactions
Act with dignity, agility and purpose in representing REVOLVE
These core principles are the backbone of REVOLVE. They provide the foundation upon which we developed our Values that give more detail and definition to our culture of sustainability. Our culture is based on living by what we preach every day: supporting our staff to make the right choices in order to contribute in their personal and professional lives to a better society and a healthier environment for all.
This is the way forward for REVOLVE.
To keep this culture intact, you must speak up if you witness or are subject to a breach of these tenets in any way. You should approach your manager or director and we will activate our Ethics & Compliance Committee to assess and take appropriate action. We have a no retaliation policy that applies to all to file a grievance of any scale; and no grievance is too small when it comes to infringing upon the quest to contribute to a better world.
Stuart Reigeluth
Founder of REVOLVE
Integrity Guide for Suppliers, Consultants and Partners
Everything we do is about working towards a cleaner, healthier, and more sustainable world. If you are working on the energy transition, sustainable mobility, clean water solutions, energy efficiency, ecosystem restoration or the circular economy, then please take a look at our Integrity Guide to work with REVOLVE as a Partner, Consultant or Supplier.
REVOLVE lives by the triple bottom-line of sustainability:
what is good for the environment is good for society and can be great for business.
The UN SDGs for Sustainable Development
Our work at REVOLVE and the projects we help implement all contribute in their way to advancing the different UN Sustainable Development Goals (UN SDGs).
Click here to learn more about how your efforts also contribute to the UN SDGS:
People
End poverty and hunger in all forms and ensure dignity and equity
Prosperity
Ensure prosperous and fulfilling ​lives in harmony with nature
Peace
Foster peaceful, just and inclusive societies
Partnership
Implement the agenda through a solid global partnership
Planet
Protect our planet's natural resources and climate for future generations
Clean Water and Sanitation
SDG 6: Ensure availability and sustainable management of water and sanitation for all 129 countries are not on track to have sustainability managed water resources by 2030.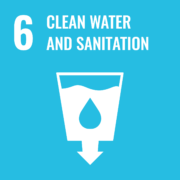 REVOLVE recognizes the importance of the SDGs as a major global umbrella for advancing sustainability amongst business, government, and society. Unfortunately, some of the early targets, such as Target 6.6 related to SDG6 – Clean Water & Sanitation, have not yet been met, but many efforts are being made that are feeding into new initiatives, such as the UN Decade on Ecosystem Restoration (2021-2030), of which REVOLVE is a partner through its initiative Cities4Forests.
REVOLVE and its initiatives invest directly in small-scale development projects, such as the Beirut River Forest project via the AMWAJ Alliance that focuses on the Mediterranean region.