Reforest Program
Balancing carbon emissions by planting trees
Whether traveling by plane, car, or train, we are leaving a carbon footprint. Why don't you plant trees to balance your carbon footprint, too? It's easy, fast, and verifiable! Forests around the world provide the most natural solution to climate change: often called the 'forgotten' solution, trees breathe in CO2 and exhale oxygen, cleaning the air we breathe in urban areas and acting as massive carbon sinks.
REVOLVE is dedicated to offsetting its carbon footprint from travel for its projects and for commuting to work by purchasing Verra-certified carbon credits. Through its partnership with Reforest'Action, REVOLVE calculates its carbon emissions and offsets them by planting trees and shrubs to encourage the return of biodiversity. We contributed to tree-planting at Roupage in 2020 and at Stoumont in 2021, both in the Ardennes region of Belgium.
39
ton(s) of CO2
emissions
462
ton(s) of CO2
emissions
23
ton(s) of CO2
emissions
271
ton(s) of CO2
emissions
271
ton(s) of CO2
emissions
Source: Reforest'action stats
from 2020 to 2022
The restoration of forests and afforestation helps prevent pest attacks and invasive species. Science shows that healthy forests and greater biodiversity also help combat the emergence and spread of contagious diseases such as COVID. Therefore, the benefits of tree planting are two-fold: it's great for company team-building and sustainability practices while also contributing to the bigger picture of global climate action.
Contact us today to include your projects in our REFOREST Program!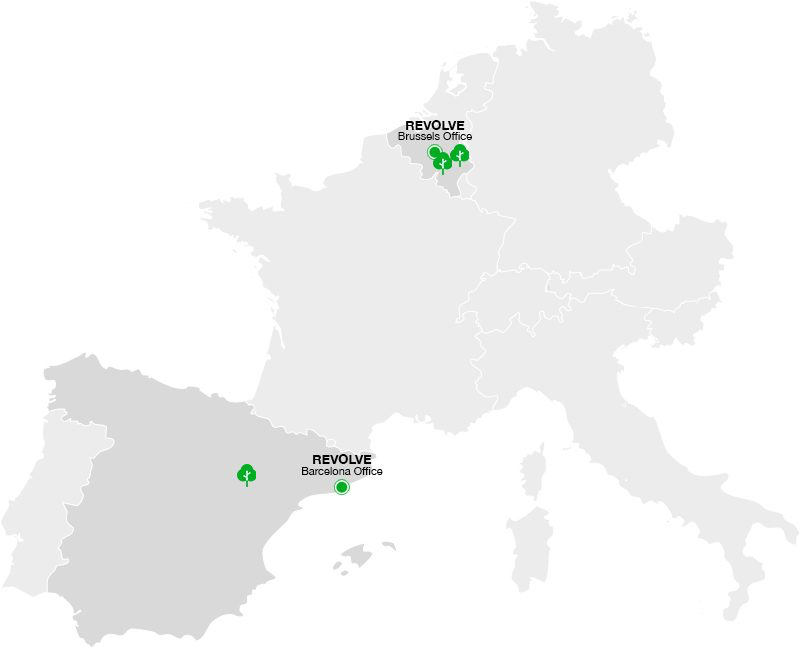 As the communication lead for the global network Cities4Forests, REVOLVE coordinated the #ForestChallenge – a communication campaign mobilizing the public to submit photos that reflect their relationship with forests and nature. For every image posted on Instagram, REVOLVE committed to planting a tree. Partnering with Reforest'Action, we planted thousands of trees in Northern Sumatra, Indonesia (2020) and in the Region of Saint Michel de l'Attalaye, Haiti (2021). Equating a post for a tree planted was a successful way to engage participants in both urban and rural areas that contributed to global reforestation efforts.

Our Mediterranean initiative called the AMWAJ Alliance includes a sustainable development program to identify nature-based solutions (NBS) to invest in and support fundraising and small-grant schemes around the Mediterranean. During our series of forums in Amman (2016), Barcelona (2018), and Beirut (2020), we helped support the Beirut River Forest. Despite very difficult circumstances on the ground, this project has successfully afforested parts of the banks of the Beirut River by using the Miyawaki method for multiple-species tree-and shrub-planting that supports rewilding and afforestation in small areas. Join AMWAJ and help us continue the journey around the Mediterranean!
Sustainability at REVOLVE