Nature-Based Solutions for Soil Management
Soil is crucial for sustaining life on Earth and combating climate change. However, it is estimated that between 60 and 70% of EU soils are unhealthy. Healthy soils play a crucial role in attaining climate neutrality, fostering a sustainable and circular economy, preventing desertification and land degradation, They are also key to combat the decline in biodiversity, ensuring access to nutritious food, and safeguarding human well-being.
But soil is a fragile resource and it tends to take a backstage seat in the public and policy sphere. The NBSOIL Project wants to change this and reposition soil health as one of the core topics in climate change. The project aims to mainstream a nature-based solutions approach and emphasise the importance of soil monitoring and soil literacy, contributing to achieving the goals set in the EU biodiversity strategy for 2030 and the European Green Deal.
About NBSOIL
The NBSOL Project is funded under the EU Mission 'A Soil Deal for Europe' contributing to the objective of leading the transition towards healthy soils by 2030. The project aims to create and test a learning pathway to train a new wave of soil advisors. The blended learning programme will provide participants with the tools to implement a holistic vision of soil health through nature-based solutions (NBS) and collaborate effectively across different temporal and spatial scales.
The project will focus on six multifunctional practices to test them as nature-based solutions (NBS) and to develop a holistic approach to land management and soil health: organic fertilisers from locally available biowastes; cover crops; paludiculture; forest diversification; bioremediation; and blue and green infrastructure in urban and periurban areas on a natural, rural, urban and industrial setting context.
Concept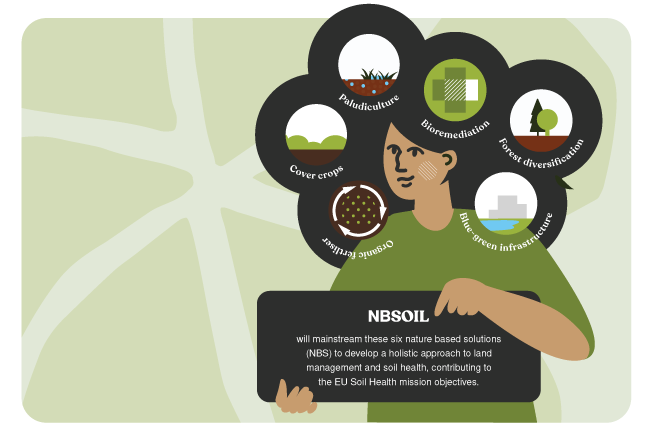 Click on image to zoom or download the image
Our Work
We provide the following services and products for this project.
branding
Visual Identity Guidelines
Development of all the visual elements for the project branding: logo, NBSOIL colours, typography and templates.
content
Social Media Management
Social media content and community management of the project channels on Twitter and LinkedIn, including the creation of regular content with unique visuals.
branding
Website
Creation from scratch of the project website, including the development of content, visuals, architecture and design.
Visit
Back to Projects
Co-funded by the European Union. Views and opinions expressed are however those of the author(s) only and do not necessarily reflect those of the European Union or the European Research Executive Agency (REA). Neither the European Union nor the granting authority can be held responsible for them.