Mitigating methane slip in LNG engines
The global shipping industry is looking to reduce carbon intensity through alternative fuels. However, before clean alternatives can be adopted on a large scale, alternatives, such as Liquified Natural Gas (LNG), are needed. To mitigate climate change, the maritime industry is looking at LNG as a transition fuel to decrease their greenhouse gas emissions and other pollutants. After 2011, maritime shipping has seen a shift towards ships powered by alternative fuels. In Europe, it is expected that by 2030 almost 25% of the EU fleet will be fuelled by LNG, compared to just 6% today. LNG emits around 20% less GHG, no sulphur oxides (SOx) and 90% less nitrogen oxides (NOx) emissions, compared to heavy fuel oil, improving air and water quality while contributing to climate action. While the emissions profile of LNG is better than oil-based alternatives, the benefits of its use are threatened by methane slip: the escape of unburned methane as exhaust. With a warming potential 28 times higher than CO2, methane slip represents a significant hurdle for short- and medium-term decarbonization efforts.
About GREEN RAY
The GREEN RAY project aims at minimizing the methane slip from Liquified Natural Gas (LNG) vessels to enable cleaner waterborne transport. By developing three innovative technologies for LNG engines that can be installed on new and existing ships, GREEN RAY is working to reduce the negative impact of waterborne transport and protect human and environmental health.
Concept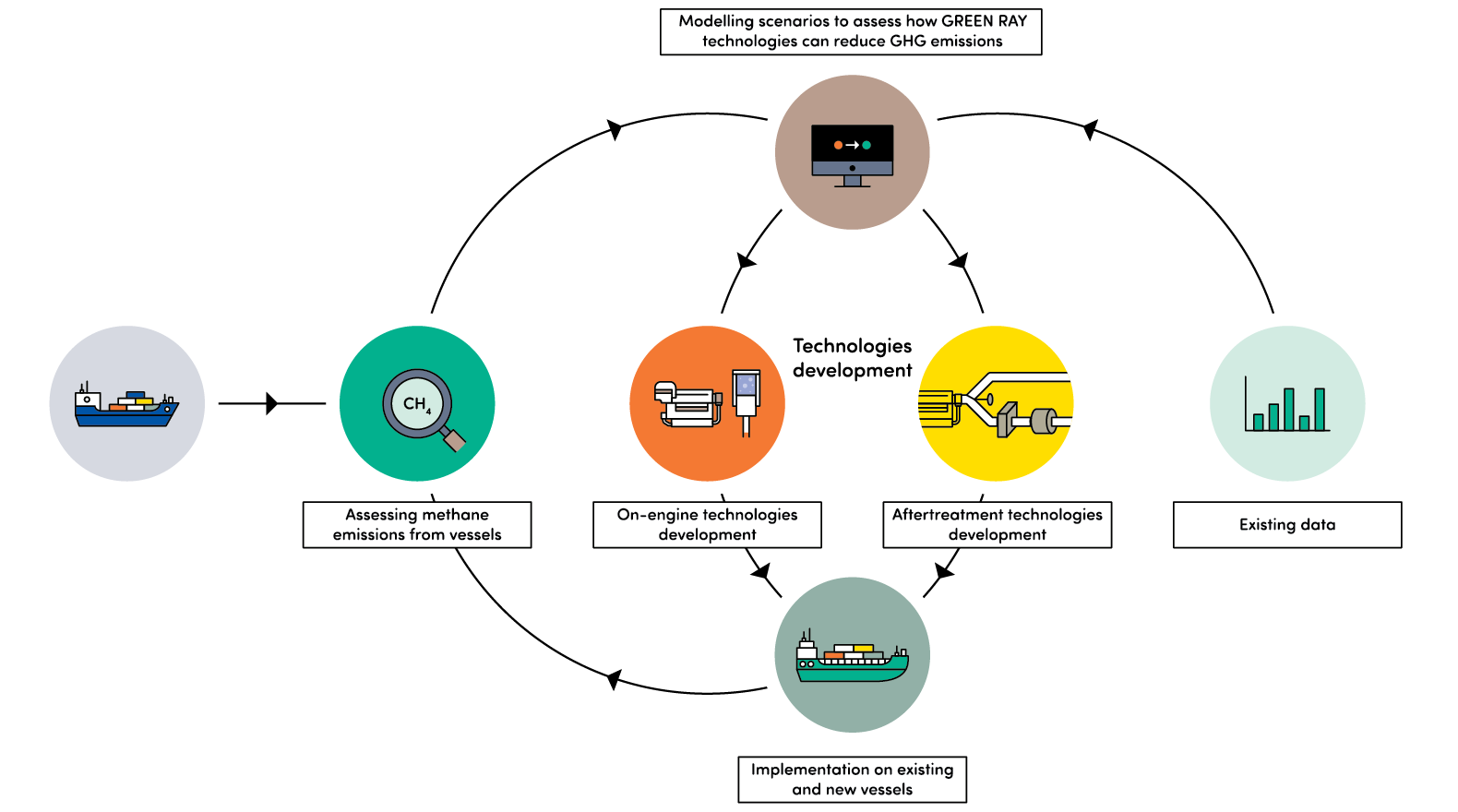 Click on image to zoom or download the image
What They Say
I'm happy to have them as professionals for the communication and dissemination activities in our project. The constructive communication with REVOLVE team members makes the communication about the project easy and is a good foundation for the five years we have together with our GREEN RAY project.
– Kati Lehtoranta, Coordinator of GREEN RAY project, Senior Scientist at VTT
Our Work
We provide the following services and products for this project.
The GREEN RAY project has received funding from the European Union's Horizon Europe research and innovation programme under grant agreement No 101056642.